Conference
Schedule
Budapest University of Technology and Economics
Biography
László T. Mika received his Ph.D in organic- and organometallic chemistry at Eötvös University, Budapest, Hungary. He works as an associate professor and head of Laboratory of Catalysis at the Budapest University of Technology and Economics and became the head of Department of Chemical and Environmental Process Engineering in 2016. His research activity documented by about 40 scientific papers covers different area of green chemistry (biomass conversion, applications of alternative reaction media, and design new catalytic systems).
---
Abstract
Solvents are intrinsic part of millions of chemical reactions providing one or more liquid phase(s) and processes such as extraction, filtration, crystallization etc. Thus, the industrial activities using conventional organic solvents are resulting in the release of more than 6 Mt of solvents into the atmosphere in EU-28 annually and some of which are leading to serious environmental concerns. Consequently, the replacement of these conventional organic solvents with green or even renewable-based alternatives could be considered as a key issue in the development of greener and cleaner chemical transformations. The intensive research activities on biomass conversion has led to the identification of novel platform chemicals[i] and some of these could act as alternative non-fossil reaction media for catalysis. It was demonstrated that g-valerolactone as a renewable, polar, aprotic molecule and its ionic liquid derivatives having low vapor pressure even at high temperatures, low toxicity etc. could be applied as biomass-based alternative reaction media for synthetically important homogeneous catalytic transformations such as hydroformylation,[ii]a,b hydrogenation,2c carbonylation2d and cross coupling reactions.[iii] Our contribution will present homogeneous catalysis in biomass-based solvents including comparison of conventional fossil-based media with ones, optimization of reaction conditions, investigation of substrate scopes for corresponding catalytic reactions.
References
---
[i] Mika, L. T.; Cséfalvay, E.; Németh, Á. Chem. Rev. 2018, 118, 505.
[ii] (a) Pongrácz, P.; Kollár, L.; Mika, L. T. Green Chem. 2016, 18 (3), 842. (b) Pongrácz, P.; Bartal, B.; Kollár, L.; Mika, L. T. J. Organomet Chem. 2017, 847, 140. (b) Tukacs, J. M.; Novák, M.; Dibó, G.; Mika, L. T. Catal. Sci. Technol. 2014, 4, 2908. (d) Marosvölgyi-Haskó, D.; Lengyel, B.; Tukacs, J. M.; Kollár, L.; Mika, L. T. ChemPlusChem 2016, 81, 1224.
[iii] (a) Orha, L.; Tukacs, J. M.; Gyarmati, B.; Szilágyi, A.; Kollár, L.; Mika, L. T. ACS Sustainable Chem. Eng. 2018, 6, 5097. (b) Strappaveccia, G.; Luciani, L.; Bartollini, E.; Marrocchi, A.; Pizzo, F.; Vaccaro, L. Green Chem. 2015, 17, 1071. (c) Ismalaj, E.; Strappaveccia, G.; Ballerini, E.; Elisei, F.; Piermatti, O.; Gelman, D.; Vaccaro, L. ACS Sustainable Chem. Eng. 2014, 2, 2461.
National Institute of chemistry, Ljubljana, Slovenia

Biography
Assoc.prof.dr. Matjaz Kunaver finished his MSc at the University of Leeds UK in 1991 and has received his PhD degree in 1998 at the University of Leeds UK. He is a senior scientist – researcher at the National Institute of Chemistry, Department for Polymer Chemistry and Technology, Ljubljana, Slovenia and assoc. professor at the University of Ljubljana and Polymer Technology faculty. His main fields of research are the utilization of biomass as a feedstock for polymer synthesis, energy production and nowadays isolation of nanocellulose with new effective methods. He has published more than 56 original scientific papers and 6 patents. He is a member of editorial board of several scientific journals.
---
Abstract
Waste is a world alarming problem and agricultural and forestry account for ca. 30% of the overall waste produced. The project BIOECO R.D.I. focuses on the idea of the use of biomass from agricultural fisheries and forestry waste and residues with the purpose to raise the green reconversion, multi-functioning, technology innovation, cross-sectoral integration. The project SWOT analysis has identified the main weaknesses affecting enterprises competitiveness in the Adriatic Sea region. All regions have some sort of biomass which could present the opportunity for the region to develop bioeconomy. While the most developed bioeconomy region (Italy) has the biggest potential in agriculture biomass, the rest of regions have more problems with utilization of biomass from agriculture. The reasons vary from legislation limitations to lack of technology to political stand about using fertile land for biomass. One big opportunity is also a biorefinery which is not available in any of the named regions. The problem present in all regions is a transfer of this knowledge from research institutions to industry and integration of solutions to industry. The clusters which could be the catalysts for such cooperation and research driven innovation, are rear in this country. Some countries are trying to adopt the circular change concept, but without bioeconomy that is almost impossible.
Case study: Nanocrystalline cellulose from laboratory to pilot plant production
Method for preparation of NCC by acid hydrolysis in ethylene glycol is a model procedure for NCC isolation from different natural cellulosic sources such as biomass with high yields and products with high crystallinity index. The main advantage of this method is that NCC is in a form of a suspension in organic solvent or water, suitable for further derivatization and functionalization. The process has been transferred to pilot plant production with the capacity of 15 kg of nanocelulose per day. The yields are higher than 45 %, the energy consumption is lower than in the similar processes and the CO2 emissions less than 20% according to the LCA analysis
Tracks
Green Catalysis | Green Synthesis | Green Solvents | Sustainable Chemistry | Green Organic Chemistry | Biopolymer & Bioplastics | Green Separations | Green Technology | Green Energy | Green Chemistry and Engineering | Green Chemistry in Pharmaceutical Industries
Tracks
Green Solvents | Green Sustainable Agriculture | Green Synthesis | Green Technology | Green Energy | Pollution prevention | Renewable & Recyclable Materials | Sustainable Chemistry | Waste Management | Future Trends in Green Chemistry
University of Massachusetts Boston, USA
Biography
Prof. Wei Zhang is the Director of the Center for Green Chemistry at the University of Massachusetts Boston. He had positions of Research Assistant Professor at the University of Pittsburgh, Senior Chemist at DuPont Agricultural Products, and Director of Discovery Chemistry at Fluorous Technologies, Inc. (FTI). His research is in the areas of green chemistry, fluorous chemistry, synthetic free radicals, organocatalysis, and medicinal chemistry. He has published over 180 peer-reviewed papers including three Chem. Rev. and four Tetrahedron Reports, and a book "Green techniques for organic and medicinal applications" (Willey 2012 & 2017). He is currently severing as editor and editorial advisory member on seven international journals including ACS Combinatorial Science and Green Processing and Synthesis. He received the International Fluorous Technology Award in 2015.
---
Abstract
This presentation highlights our recent effort on the development of fluorous chemistry based pot-economic synthesis and asymmetric catalysis to maximize reaction and separation efficiency in the synthesis of diverse heterocyclic scaffolds with substitution, skeleton, and stereochemistry variations. Fluorous recyclable organocatalyst-promoted cascade reactions have been introduced for asymmetric fluorination, Michael addition, Mannich reaction, Robinson annulation and other transformations to construct drug-like molecules with multiple stereocenters. Screening of compounds for druggable targets such bromodomains, kinases, RORgt, and HIV-1 will be mentioned.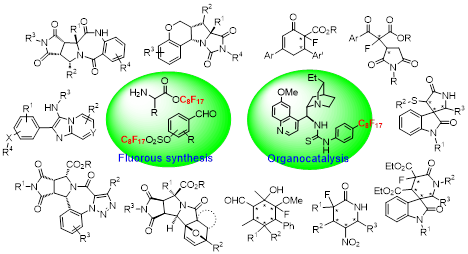 Biography
Dr .Vitaliy Budarin graduated from Kiev State University (Ukraine) with an MSc (1983) and PhD (1988) in Chemistry. Following postdoctoral research at Kiev State In 1996 he was appointed to a Lectureship in Chemistry at Kiev State University and was promoted rapidly to Associate Professor in 1998. In 2002 he moved to the Green Chemistry Centre of Excellence (GCCE. From 2012 he became Head of the Microwave technology platform group. From 2017 he is Head of Mesoporous Materials TP and the GCCE's Principle Scientist. Dr. Vitaliy Budarin experience has led to more than 140 research papers in peer reviewed journals, three patent, four patent applications and five book chapters. Dr. Budarin's h-factor is 33.
---
Abstract
It has been shown that two novel green technologies (Low temperature microwave activation and Starbon® materials preparation) could be efficiently applied for bio-waste utilisation. Combination of these processes could help transfer polysaccharide reach biomass to high value products such as fuels, chemicals, materials and solvents. Both technologies are scalable and could be applied for multi-tonne processes. The microwave (MW) technology focuses on depolymerisation of large organic molecules to high value products. The most promising from the industrial application perspectives is ability of MW irradiation to activate lignocellulosic materials at very low temperature. In inert atmosphere MW assisted pyrolysis could produce a number of high value chemicals such as levoglucosan, levoglucosenone, HMF and furfural. The grade yield and high purity of these products are guaranteed by low temperature of the process and high controllability of microwave irradiation. In the presence of water solution the lignocellulosic biomass could be converted to different types of mono- and oligosaccharide. This sugars-reach solution could be used for further biological/enzymatic treatment and production of bio-gas and bio-ethanol. Starbon® technology is complimentary to microwave approach helping to convert helical-structured polysaccharides (starch, pectin, alginic acid and xylan) to mesoporous carbonaceous materials. Starbon® materials due to its textural properties flexibility and controllable functionality could be applied for recovery and purification of critical metals such as lithium, cobalt, beryllium, silver and gold from aqueous systems. High degree of mesoporosity and large pore diameter (larger than 5nm) of Starbon® enables to perform reversible adsorption of bulky industrial days.
Unité Matériaux et Transformations (UMET), France
Biography
Dr. Sami Fadlallah has completed his PhD in Organometallic Chemistry and Homogeneous Catalysis by University of Lille-UCCS laboratory. Currently he is postdoctoral research associate in the field of polymer engineering and heterogeneous catalysis at UMET-Lille and UCCS-Artois laboratories
---
Abstract
The synthesis of functional nanofibers containing noble metal nanoparticles (NPs) is of growing interest, notably due to their application in different fields such as catalysis, medicine and sensing (1). These systems exhibit particular characteristics and they are defined by their high surface area of stabilized active metals. However, the size and homogeneous distribution of the incorporated metal NPs should be taken into consideration in order to reach the high performance and efficiency.
Herein, we report the synthesis of composite nanofibers of poly(vinyl alcohol) (PVA)/poly(citric acid-β-cyclodextrin) (PCD)/RuNPs. The new approach includes the preparation of a series of Ru colloidal nanosuspensions stabilized with PCD (2), then, the dissolution of PVA polymer which constituted the matrix of nanofibers during the electrospinning phase. Rheological study showed that the viscosity depends on both the molecular weight of PVA and amount of reducing agent; NaBH4. These heterogeneous catalysts were fully characterized by TEM, SEM, TGA and DSC. Moreover, the effect of NaBH4 (NaBO2) as a physical crosslinking agent was studied by heat treatment of electrospun nanofibers. Furthermore, the activity of the prepared catalysts was evaluated in the catalytic hydrogenation reactions in liquid phase.
References
J. Xue, J. Xie, W. Liu, Y. Xia. Electrospun nanofibers: new concepts, materials and applications. Accounts of Chemical Research 50 (2017) 1976-1987.
R. Herbois, S. Noel, B. Leger, S. Tilloy, S. Menuel, A. Addad, B. Martel, A. Ponchel, E. Monflier. Ruthenium-containing β-cyclodextrin polymer globules for the catalytic hydrogenation of biomass-derived furanic compounds. Green Chemistry 17 (2017) 2444-2454
STIA Dan Manajemen Kepelabuhan Barunawati Surabaya, Indonesia

Biography
Dr. Ismi Rajiani has completed his PhD in Management Science from University of Brawijaya Indonesia . He has worked as an assistant professor of International Business Management at STIA & Managemen Kepelabuhan Barunawati Surabaya, Indonesia, a college of business administration and port management under the auspices of Indonesia Port. He has published more than 50 papers in reputed journals including the Scopus and Web of Science Indexed ones and has been serving as an academic director of the school.
---
Abstract
Technological innovation with related notions such as product development, radical versus incremental innovation as well as diffusion and adoption has dominated innovation research. However, falling trade barriers, decreasing transaction costs, stagnating developed markets and overheating emerging markets are forcing firms to look for other areas in which to innovate as a means of gaining and maintaining competitive advantage. Management innovation is changing the nature of management within organizations by, for instance, adapting organizational structures, processes, and practices to generate a valuable source of competitive advantage. Scholars have started emphasizing that, in order to capture the full benefits of innovation, technological innovation needs to be combined with management innovation. Ironically, despite the recent surge in academic interest, management innovation remains an under-researched topic. To fill the gap, in this paper we will conceptualize management innovation to clarify understanding of management innovation, its underlying dimensions, antecedents, impact on performance as well as the contextual factors that affect management innovation. As most innovations are related to product development, this study highlights management practices as a process innovation in responding to the current trend. While there is a growing body of in-depth qualitative research that provides insight into the sequence of events that occur during process innovation, these highly context-dependent studies have not systematically analysed the organizational capabilities related to fuel management innovation. This way, Structural Equation Modelling (SEM) is used to spot the terrain for further study. Finally, the model is expected to support The Indonesian Port Cooperation in determining the policy to support the government agenda to reduce carbon emission as pledged in 2009 G20 Summit.